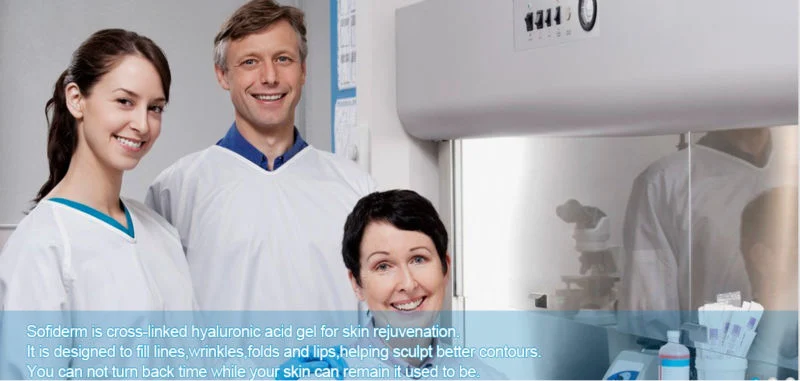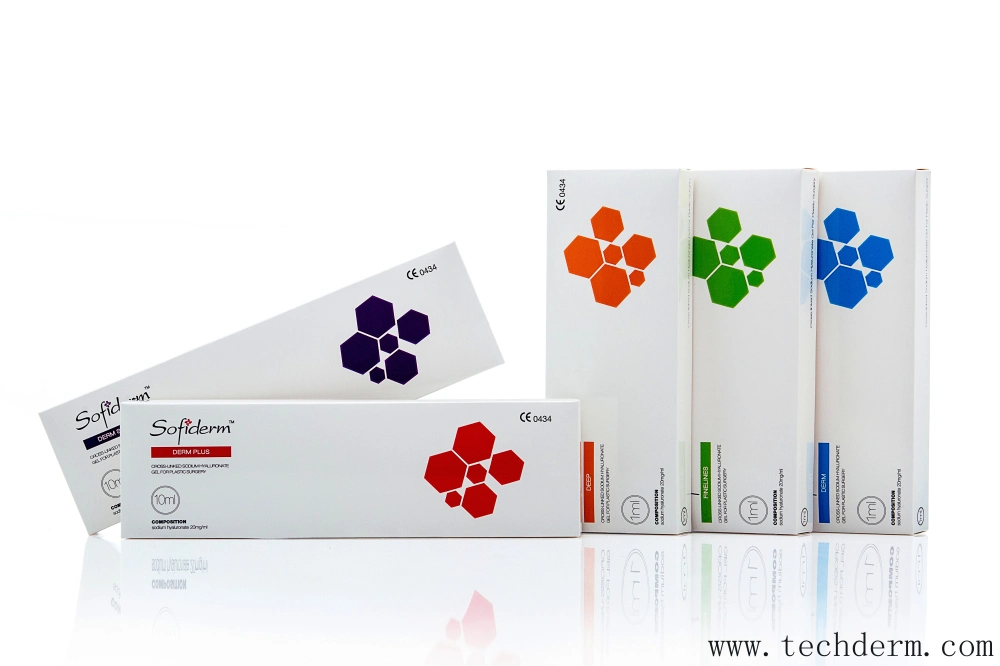 Filling specification of Sofiderm HA products authorized by CE is from 0.5ml to 20ml, which is only owned by techderm company in China.
Sofiderm

Finelines are used for anti wrinkles around eyes, defect scared tissues, anti Static wrinkles, such as glabellar wrinkles, crow's feet, lacrimal sulcus and nasolabial angle etc.
Usually be injected into middle or deep dermis.

Product Features:
1.Safe and effective,rarely cause allergy
2.Can last for 9-15months
3.Special specification and OEM accepted

Product Types: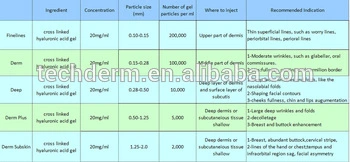 Advantage:
1. Our raw material is approved by American FDA and European EDQM.
l2.Our multiple cross-linking technology ensures strong stability of Sofiderm gel.
3.Sofiderm have little risk of transmissible infectious bacterial or viral diseases due to produced by biotechnology.
4.There is no risk of allergic reactions.
5.Sofiderm has passed the test of Medical Supervising & Testing Center of SFDA.
6.Been negative in chronic toxicity test.
Composition:
| | |
| --- | --- |
| Raw Materials | Composition |
| Sodium hyaluronate | 18-26mg |
| Sodium chloride | 8.5mg |
| Disodium hydrogen phosphate | 0.03mg |
| Sodium dihydrogen phosphate | 0.126mg |
| Sterile water for injection | Ad 1ml |
| Cross-linked agent | BDDE |
| 1,4-Butandiol-diglycidyl ether | Proper amount |
Storage:
1.Store at
2-30
°C
, do not freeze.
2.Keep away from light source.
3.Quality guarantee period:2 years.
4.Do not use after expiration date.
Packing:
One syringe and two needles packed in a blister. One blister and instruction packed in a retail box.
Ten pieces of products packed in a white box.
One hundred of products packed in a hard carton

.
Company info
About our factory:
Techderm is a professional HA dermal filler manufacturer in China.
We offer top quality cross-linked HA fillers for plastic surgery all over the world.
The perfect product development, production, sales and after - sales service system are our advantages.

About our experience:
Our research team has been studied more than 7 years in hyaluronic acid area.
The team leader, professional Chai has worked in this filed for more than 10 years.
Experienced researchers and workers are the firm guarantee of our company.
About our equipment:
GMP standard work shop.
Sterilized Laboratory.
Complete Precision Instruments.

About our technique:
Dexterous cross linked processing technology.
Advanced production process.

Certificates
CE 0434
ISO 9001
ISO13485
Import-export license
Free Sale Certificate

FAQ
1. What is Sofiderm?
Sofiderm is a kind of hyaluronic gel and anti aging dermal filler that can instantly restore facial volume and smooth away unwanted wrinkles and folds. It is no animal ingredient. Easy for body to break down after 6-15 months' longevity.
2. How does Sofiderm work?
Once injected into the skin, it produces an instant result, lines and wrinkles will be quickly restored.It will be there for several months, the utility time depends on some factors like : injection site, dosage, different lifestyle and so on.
3. Is Sofiderm safe?
Of course! Sofiderm is much safer because of its good biological compatibility.Being produced by biotechnology, it can rise very little risk of transmissible infectious bacterial or viral diseases. After being injected for a time, Sofiderm will eventually dissolve into body's tissues, almost no risk of allergic reactions.
4. What if I don't like my results?
One advantage of Sofiderm filler treatments is that they are not permement. If you don't like the results they will diminish in time, or you can tell your doctor and use hyaluronidase to dissolve it.
5. Is there any side effect by Sofiderm?
Some common injection-related reactions might occur after injection redness, like swelling, pain, itching, bruising or tenderness at the injection site. They typically resolve spontaneously within one or two days after injection. If any of these side effects persist, contact your health-care provider immediately.